Road Map
Directions to the south gate via Lachute
(see map below)
Highway 50 to LACHUTE
Cross town on Chemin Béthanie to Rue Principale.
Left on Rue Principale towards Brownsburg. Turn right after the bridge on the 327 towards Brownsburg.
After 3.5 you will pass the OASIS. Golf club on your right
Go 2 kilometers to the stop and turn right on the 327.
Drive about 3.5 kilometers on the 327 to the intersection with a corner store with a tinted cedar exterior. Do not continue on the 327 to your left; rather take Chemin du LAC LOUISA straight ahead.
Drive 7.5 kilometers on Chemin du Lac Louisa to the 'T' intersection in front of the old barn. Turn left.
After 0.8 kilometers you will pass Tom Seale on your right. After one more kilometer the south gate will be on your right.
To go to 650 Chemin des lacs, from the gate, drive 4.5 kilometer on the main road (Chemin des lacs).
At the fork, keep right and you will se a yellow house on the right. Drive one more kilometer.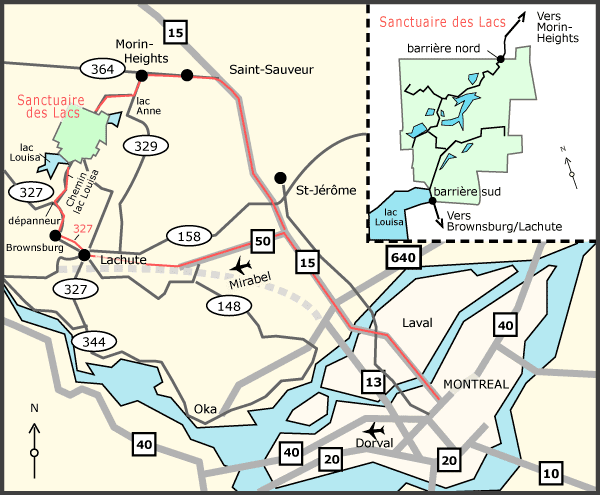 Directions to the north gate
(see map below)
From the first traffic light in Morin-Heights drive 6KM on the 329 towards Lachute until Kirkpatrick road. Turn right on Kirkpatrick and drive 3.1KM until the intersection of Territoire des Lacs, chemin du Lac Anne and chemin du Lac Gustave. Turn right and drive 4.5KM on a gravel road until the intersection with chemin du Territoire des Lacs. Turn right and drive 2KM until you reach the guard house at the north gate.
Click for a larger map of the area.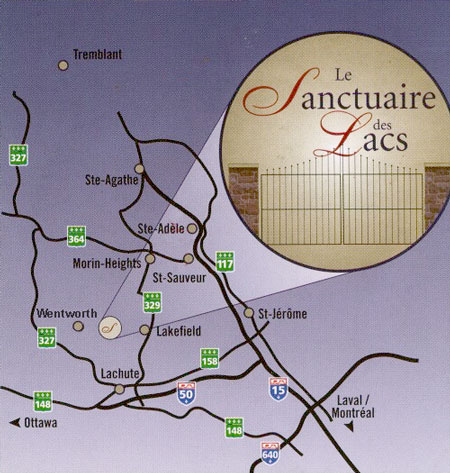 Click for a larger map of the area.