Building your Home

Advantages of new construction
If you have a vision of how you want your home to be, finding an existing home to match that vision may be a challenge. Building your own home allows you to create your dream house, exactly according to your needs.
You know what you get. With a new home, there are no surprises when you move in. You know how the house was built and what went into it. You also know exactly how to operate and maintain your home's systems and equipment because you actually get first hand instructions.
You get what you want. Why live with other people's taste in interior decoration? Or spend the next few years re-doing the previous owners' home improvements when you can get what you want from the very start. From layout to cabinets to carpeting, new homebuilders offer a wide selection of standard and up-grade options. You can pick and choose what suits your lifestyle, personality and budget.
Location. You get to pick the exact spot where your house will be built, which way it will face-north-south-east or west, and what view you would like- mountain view, lake view or garden view. Basically to sum it up - you are in control.
Energy efficient. The technology of home building has improved tremendously over the past few decades and new homes are being built better than ever. They are highly energy efficient, with excellent indoor air quality.
You know the builder. In the end, the quality of your home depends on the quality of your builder.
You may also consider the advantages of a Viceroy Home kit.
Real Estate
The market for existing homes in the Laurentians is hot. Finding the perfect home may be a matter of timing and luck, or of research on www.MLS.ca and a lot of driving around the area.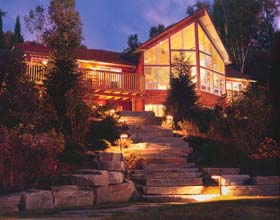 Buying land is a different market. There are a few new development projects often in areas with lakes. The first step is choosing the one that you like best, then it is a matter of narrowing it down to a lot that suits you. Some aspects to consider are:
1. How important is lake frontage to you?
2. Do you want lake access?
3. How many acres of land do you want?
4. Do you want a view (elevation)?
5. How far is the road from the location where you want to build?
6. What price are you willing to pay to make this dream come true?
Side bar: High speed Satellite internet service is only about $80 per month. Have you considered a home office by the lake?