Available Property
Exceptional lakefront sites are available in our gated territory that is a 15-minute drive from Morin-Heights and 25 minutes from Saint-Sauveur. Phase one is situated near the North Gate. The lot sizes are a minimum of five acres (218,000 square feet) with 80 meters (265 feet) of lake frontage. Lakefront property is available starting at 45¢ cents per square foot, or starting at about $87,000 Canadian dollars per property (plus tax).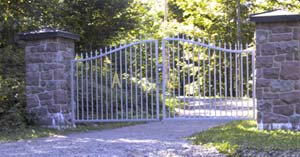 Lakefront property is already a rare commodity, however, lakefront property of this beauty and quality within a gated community is not only rare, it is exclusive to this site.
A piece of land purchased for $125,000 plus tax with a house costing an additional $250,000 within Domaine Le Sanctuaire des Lacs could have a market value of up to $395,000 after the construction (depending on the market). See our breakdown of the investment costs and returns on our investment in land page.
In order to visit the territory, please see our contact page.
Current owner:
"I moved permanently into my new home in March of 2004. As a landowner, I was thrilled to finally begin living there full-time. I wanted to work mostly from home so within the first few weeks I had arranged to get high speed Internet and Star Choice for my children.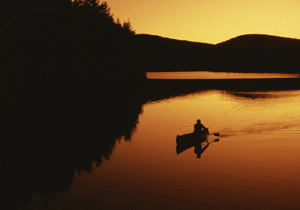 I work with the public on a daily basis and I must admit that I look forward to the short drive home every evening. Deer, great heron, partridge and other creatures greet me as I make my way home and I am truly grateful for these few therapeutic moments that never fail to bring me peace and tranquility.
Some may say that living 25 kilometers away from St-Sauveur could translate into extra traveling time. I am quite happy to make the trade; in return for a short drive, I receive natural beauty and serenity.
I am looking forward to the pleasure of giving you a guided tour of Domaine Le Sanctuaire des Lacs."
Michel Labrèche - Owner