About us
Domaine Le Sanctuaire des Lacs is situated in one of the largest gated territories in the Laurentians. Our territory includes eight lakes distributed throughout1300 acres of land alongside 2500 supplementary acres of common area that can be enjoyed by all the members of the association. It is located at the crossroads of Wentworth, Morin-Heights, Mille-Iles, Gore and Brownsburg and is approximately a one-hour drive from Montreal. Nearby towns are Morin Heights (15 min) Saint Sauveur (25 min), Brownsburg (20min) and Lachute (25 min). See maps of our location.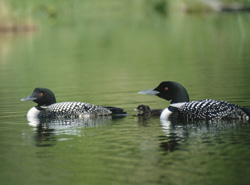 The largest lake in the territory is Lake Lemieux whose waters originate primarily from Lake Schumann's overflow. The marshes located between the two lakes maintain a consistency of water qualities, which in turn ensures a superior overall quality of lake water.
Most of our lots are lakefront property including on Lake Lemieux, which is a haven for lake trout and a variety of indigenous species found on the trout's food chain. Unlike many lakes in Quebec, Lake Lemieux has never been over-fished and its fish population continues to thrive.
The woods and wetlands, having almost never been disturbed by human activity, shelter an abundant population of native species. All exploitation of the forests' resources, as well as of the lakes, will be undertaken in such a manner that will guarantee the permanence of all natural resources. Preservation guidelines allow for the enjoyment of recreational fishing which will be permitted and even encouraged as long as there are no signs of environmental distress. However, hunting is forbidden.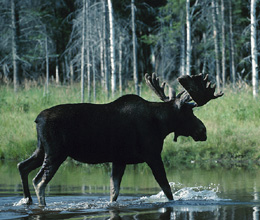 Homeowners may lodge up to two horses per five acre lot as per the actual municipal ruling. More horses are permitted on larger lots depending on the property size. In fact homeowners are encouraged to set up their homes and properties according their personal needs and interests, however, conscientious development of this land will continue to help avoid endangering its ecosystem's fragile balance. Thus, all dwellings must be situated no less than 75 feet from the lake and must be fitted with septic systems that respect all municipal and provincial norms. The water supply is created by private wells that the owners dig. The average well is approximately 200' deep and gives approximately 200 gallons/hour.
For more information on guidelines that are in place to protect the environment, please inquire- with our representatives. See our contact page for details.