Natural Environment
Domaine Le Sanctuaire des Lacs is one of the rare places in the Laurentians where there has been almost no development for the last fifteen years. This unspoiled land is now the location of a new development project that adheres to the principals of environmental preservation in order to safeguard diversity and natural beauty. It is up to each of the landowners to make sure that the environmental equilibrium is maintained. Preserving wildlife of the territory for future generations was the driving force behind the creation of the "Association du Territoire des Lacs Inc."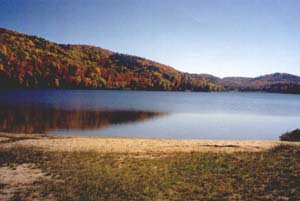 Our territory includes eight untouched lakes of various sizes. The lake water is a priceless resource that has not been subjected to the same over-exploitation as many other lakes in Quebec. One thus finds a healthy lake ecosystem with indigenous species of lake trout and speckled trout among many others.
These crystal-clear lakes' principal source of water originates from a network of local marshes. Thanks to these marshes, the water quality of the entire basin is exceptional.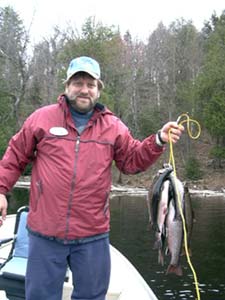 The enjoyment of recreational fishing is available to residents and guests. As long as fishing quotas are respected, recreational fishing is tolerated. [picture of Michel with trout] This privilege comes with some responsibility. For example those fishing are encouraged to release small catches back into the water. Throughout the region, it is forbidden to use live fish bait and it is strongly recommended that hooks be trimmed in such a way as to facilitate the safe release of fish back into the water.
Most animals and birds normally found in Quebec's mixed forests can be observed in the Sanctuary's forests. Glimpses of Virginia deer, moose, grouse, herons, hares and foxes are frequent.
The enduring preservation of such a beautiful environment depends heavily on whether the human inhabitants care that it will be carefully preserved for future generations.
For more information on nature or land preservation in Quebec please see our links page.